About Me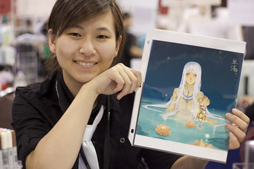 Hello, my name is Yang.
I am currently a software enginner at Radiant Entertainment. I am working on a game called Stonehearth, please check it out!
Before Radiant, I worked at Google on the Chromecast team. Before Google, I worked at Electronic Arts on the Sims 3 Expansion packs and the Sims 4 base game.
I graduated with a BS in Computer Science and a masters in Entertainment Technology from Carnegie Mellon University. I also have a minor in Art.
In my spare time, I enjoy playing video games, and drawing Japanese animation. My primary art medium is digital, though I enjoy dabbling in some traditional works via copic markers.
Artistic Experince
Experience: I have been drawing since 2000 and started working with digital mediums around 2004.
Education: Background in still-life painting, pencil sketching, watercolor and oil pastels. Self-taught anime and digital painting. Minor in Art from Carnegie Mellon University.
Equipment: Wacom Cintiq Companion. Software of choice is Open Canvas 3.03E and Adobe Photoshop
Commissions
Do you take commissions?: Not at the moment.

Contact
DeviantArt: skydestinies
Web Comic: Red Reminiscence
Email: skydestinies [replace me with @] gmail.com